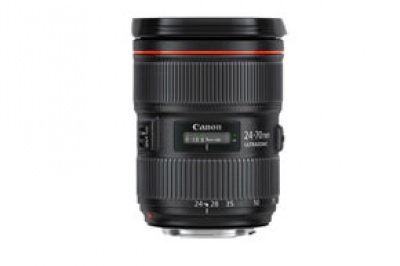 is also the best lens for Canon 5D mk4
It usually pays off to use a lens on a camera with extremely high resolution (50 megapixels). In the center, you practically always get sharper pictures with that 50-megapixel sensor. Even the dirt-cheap Yongnuo 50 mm f/1.8 on a Canon 5DsR showed very high center sharpness in our test. We also did not see any differences between the Yongnuo and the Canon 50mm f/1.8 STM.

Of course, a 50-megapixel camera also places extremely high demands on the quality of the lens. Many—particularly older—lenses therefore drop the ball due to lower sharpness in the corners. For the same reason, the recently released Sigma Art, Nikon, Zeiss Batis and Sony lenses scored so high in our lens tests: they are specifically designed to get the maximum out of the sensor of a modern high-end digital camera.
Because the sharpness with every lens increases more in the center than in the corners, the lower corner sharpness is more noticeable if you use an older lens on a Canon 5Ds instead of on a Canon 5D mk3. A lens does not get worse on a camera with more megapixels. You just see the quality differences between center and corner more clearly.
Recently released lenses, certainly with a fixed focal length (thinking of the Sigma Art series), are specially designed for cameras with a high resolution and are actually so good that the sharpness also comes into its own in the corners. That does not apply for most lenses that were designed a few years ago. Canon Europe therefore published a list with suitable Canon lenses for the 5Ds and 5DsR. But that was quickly removed from the web. On The Digital Picture, this list fortunately still exists. They are primarily lenses with a fixed focal length. But a number of familiar zooms, like the Canon EF 8-15 mm f/4L Fisheye USM, Canon EF 24-70 mm f/2.8L II USM, Canon EF 24-70 mm f/4L IS USM and Canon EF 70-200 mm f/2.8L IS II USM, also appear on the list. Two of these lenses are also in our list.

In the selection of lenses for this article, we assume that budget plays a less important role than image quality. In the best lens for a Canon 6D, we have chosen lenses for Canon cameras with a full-frame sensor, where we have explicitly counted the price-to-quality ratio. In the title of this article, the Canon 5Ds and Canon 5DsR are named in particular. But the lenses that we mention in this article are obviously also suited for (future) Canon high-end full-frame cameras, like the Canon 5D mk4.

How are the best lenses for a Canon 5DsR selected?

This recommendation is based on 40 comprehensive lens tests on full-frame cameras

HThe most important starting point is that we do not recommend any cameras or lenses that we have not first comprehensively tested. We test each lens on a camera with the highest possible resolution of that moment. For Canon at the moment, that is the 50-megapixel Canon 5DsR. For the Canon 5Ds (also 50 megapixels) the anti-aliasing filter causes a small decrease in the resolution. Although you will have to have good eyes—and even then will have to look very closely—in order to see that difference in practice shots. Differences of, for example, 10% in resolution are much more important with cameras with less than 25 megapixels or more. Whether you jump 50 cm over the ditch or a meter is not that interesting to many people. As soon as you fall 10 cm short when jumping a ditch, it becomes a very different story.
The resolution of the Nikon D810 or the Sony A7R mk2, neither of which has any anti-aliasing filter, come so close to the resolution of the Canon 5Ds(R) that it is with a clear conscience that we include Sigma or Tamron lenses tested on one of these two cameras in our evaluation.

Use the list of test results per focal length as a key to nearly 100 lens tests

Beginners and many photographers only make use of jpg files from the camera, in which multiple lens corrections have usually been done. For the lens recommendations for starters and amateurs, we take that into account by basing our recommendation on the test results for jpg files. But for more experienced photographers—and we assume that this applies to all Canon 5DsR owners—we rely on the test results for unedited RAW files, because that gives the best picture of the lens quality. In addition, the group of Canon 5DsR owners will make use much more often of RAW files.

We have already re-tested a number of lenses on a Canon 5DsR. A few lenses (Canon EF 100-400 mm f/4.5-5.6L IS II USM, Canon EF 35 mm f/1.4L II USM, 100-400 mm Canon EF 11-24 mm f/4L USM) are high on our wish list to test. But most of the Canon lenses we tested with a Canon 5D mk3. We therefore selected not only the best lens for a Canon 5DsR from the nearly 20 lenses that we have already tested on a camera with a sensor of 36 megapixels or more. If we could not find any suitable candidate in the list that we have tested on a full-frame camera with a 36- to 50-megapixel sensor, then we refer to the list with 20 lenses that we have tested with a lower resolution.

Best Lenses for Canon 5Ds or 5DsR:

[widgetkit id="112″]
[widgetkit id="271″]
In this category, it is not easy to make a choice because we have tested much more suitable candidates. The Canon 5Ds is offered in combination with the Canon 24-70 mm F/2.8 L USM II, so that is the benchmark for this category. In our test, the Canon 24-70 mm f/2.8 L II on a Canon 5DsR barely scored better than the Tamron 24-70 mm f/2.8. The AF of the Canon was faster and a bit more accurate than that of the Tamron. The attractively priced Tokina 24-70 mm f/2.8 is also a solid competitor. The comparison between the Tokina 24-70 mm f/2.8 and the Canon 24-70 mm f/2.8 LII is not completely fair, because the Tokina was tested on another camera with lower resolution (Nikon D810). It is quite possible that the Tokina on a Canon 5DsR will match or even pass the Canon as far as image quality is concerned.
The Tamron is much less expensive than the Canon, and it also offers built-in image stabilization. Because both the AF speed and the AF accuracy have a great influence on the number of successful shots, in this category we ultimately chose the Canon, in part because you can take advantage of a price discount if you buy this kit, instead of buying the body and the lens individually.

There are many photographers who want to have a greater zoom range, so that they can also use the zoom lens for portrait photography. They thereby accept a big lower image quality as a result of the larger zoom range. In that case, the Sigma 24-105mm Art seems to us to be the most likely candidate because it is a more modern lens design that performs better even on a camera with a lower resolution (Canon 5D mk3) than the Canon 24-105 mm. For the real purists, the Sigma 24-35 mm f/2 is a very attractive option. That is not only because this Sigma Art zoom lens is so bright. Because the zoom range is a bit smaller than that of a 24-70 mm zoom, there are fewer concessions made in the design. The Sigma 24-35 mm f/2 Art is a wonder of the world, not only as far as brightness is concerned but also as far as image quality is concerned.

Budget does not play any role in this article, so we choose the Canon 100 mm macro as the best macro lens for a Canon 5Ds(R).

Macro lenses traditionally score very high in our lens tests. That means that even older macro lens designs like the Canon EF 100 mm f/2.8 L and the Tokina 100 mm f/2.8 Macro show very high image quality if you use them on a Canon 5DsR. The Canon EF 100 mm f/2.8L Macro IS USM aims highest at this moment in our tests in terms of image quality, because this is the only macro lens that we have already tested on a Canon 5DsR. For half of the price of the Canon, there are a few attractive alternatives: We expect, for example, that if we test the more recently designed and less expensive Sigma 105 mm f/2.8 Macro on a Canon 5DsR that this Sigma macro lens performs at least equivalent if not better. The Tokina 100 mm Macro f/2.8 also surprised us in a positive sense when we tested that on a Nikon D810. In addition, this lens is dirt cheap. The Tokina 100 mm Macro beats out many lenses in price and quality.

A good portrait lens is bright (f/2.8 or less) and has a focal distance of 85 mm or more. At 85 mm, you do run the risk that a frame-filling head shot will render the nose of the model a bit too large. There are therefore also photographers who prefer a big longer focal length.
If you think with Canon about a Fisheye lens, then you think about the Canon 8-15 mm. There are only a few Fisheye lenses. Even fewer Fisheye lenses that you can use on a camera with a full-frame sensor. A Fisheye zoom lens is even more rare.
The build quality of the Canon 8-15 mm is flawless, and you get great, characteristic Fisheye shots with it. This lens is not inexpensive.
Owners of a Canon 5Ds or 5DsR are, we think, well prepared to put down far more than 1000 euros for a good telephoto lens. Then more candidates come to the fore from the selection of lenses for Canon full-frame cameras. First of course, attractively priced candidates, like the Sigma 150-600 mm Sports or the Canon 100-400 mm L II. We hope to be able to compare those lenses with each other directly this year, so that we can make an evidence-based statement about them. Until that time, we are playing it safe and recommending the—certainly not inexpensive—Canon 200-400 mm f/4 with built-in 1.4x teleconverter. Really fantastic build and image quality. And a built-in converter, whose design is perfectly matched to this lens, make the whole thing even more versatile—without detracting from the image quality. Even with the use of the teleconverter, this unique Canon lens is just as sharp as—or sharper than—many telephoto lenses with a fixed focal length. We tested this lens at the time on a Canon 1Dx, and we are convinced that in our test results the resolution was limited by the Canon 1Dx.

Lenses with a fixed focal length!

{insertgrid=426}
Many owners of a Canon 5Ds or Canon 5DsR chose this camera for a specific reason: they go uncompromisingly for the best image quality. Then you quickly come to lenses with a fixed focal length. Experienced photographers also like to work for creative reasons with a fixed focal length. Because you cannot zoom in or out, a fixed focal length forces you to think more carefully about the composition of a photo. Lenses with a fixed focal length are often brighter than zoom lenses. If a 24 mm f/2.8 is enough for you, then you can choose the 24-70 mm zoom lenses that we discussed earlier. If you want a brighter lens, or a larger field of view, then you are looking at a lens with a fixed focal length. And the Sigma 20 mm f/1.4 Art is unique in this sense, as the only 20 mm lens with an f/1.4 brightness. Both the build quality and image quality are at least the same level as that of the Canon L, if a similar lens existed in the Canon assortment. That is not the case. That's why our recommendation is for the Sigma 24 mm f/1.4 Art.
{insertgrid=427}
Concert photography and night photography place much heavier demands on lenses when it comes to internal reflections. Because a photo often has much darker parts and a single bright light source, ghosts and reduced contrast as a result of internal reflections are extra noticeable in concert shots or night photos. The Canon 70-200 mm f/2.8 IS L II and the Sigma 50 mm f/1.4 Art score very well on this point. Both lenses deliver very high image quality starting at full aperture, which is an extra plus point if you are photographing in low light. The build quality of both lenses is fantastic. The higher brightness, the shorter focal length, the lower price and the lower weight of the Sigma 50 mm f/1.4 Art ultimately earn the Sigma our recommendation for night photography and concert photography.

Beautiful bokeh with the Canon 5Ds?

If you really want beautiful bokeh, then look for a bright lens that simultaneously offers high sharpness at full aperture, so that you can nicely isolate a subject from the background. Play sometime with the bokeh app oto investigate the effect of distance from the subject, sensor size, focal length and brightness of the lens. The subject and the character of a lens also play an important role in that. Opinions can significantly differ about that. With a focal length above 200 mm, you choose a lens with an aperture of f/2.8 at most, or f/4 for extremely long focal distances. Under 100 mm, you turn for a beautiful bokeh to a lens with a brightness of f/1.4 or less.

The Sigma 50 mm 1.4 Art surprised us when we compared the practice shots from this modern Sigma with the somewhat older Canon 50 mm f/1.2L, which is known for its beautiful bokeh. The high sharpness at full aperture of the Sigma really gives an extra dimension to shots, where the foreground sticks out nicely against a woolly background. In the practice shots with the Canon 50 mm 1.2L of subjects at a greater distance, the bokeh was sometimes restless and our experience corresponded with that of Ken Rockwell. The Canon 50 mm f/1.2 does not always deliver the dreamy background for which you are hoping. The Sigma 50 mm f/1.4 Art showed a more beautiful bokeh in our practice shots, primarily because the Sigma at full aperture showed fewer spherical aberrations and color flaws. In addition, the Sigma is sharper at full aperture, lighter, less expensive, less sensitive to flare from backlighting and is at least as solidly built. No wonder that there were rumors going around in 2015 that Canon tried to buy Sigma.

To be continued

There are still many lenses that we have not yet tested on a camera with more than 35 megapixels and that might also deserve a place in this list. We will have to do testing first. The more lenses we test on cameras with extremely high resolution, the more complete this list becomes. In about a year, we will further fill in this list.

{insertgrid=447}